Had to write a quick post to tell about our April Fool's Day. As many of you know, Dasun and I love being ornery with each other. Enter April Fool's Day! We know from past experience that it's best to make sure it's in good fun. : )
I decided I was going to use a rubberband and lock down the sink sprayer so that it would get him when he turned on the faucet. I know...not very nice, but I did wait until he was coming home from work instead of all dressed and ready to leave.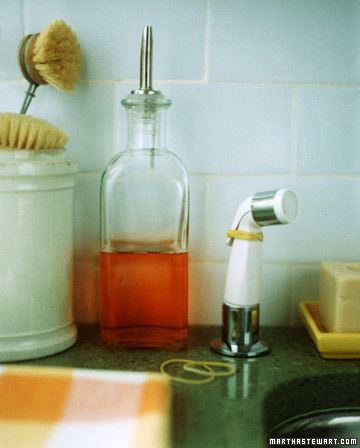 It worked beautifully. He actually put it back on so that it would get me, but he accidentally got himself again...too funny!
For retribution, when I got home, he said, "Did you find your surprise yet?" ---Well, imediately I went in and started peeking around to try and find it before it got me. Wouldn't you know that as I slowly opened the bathroom door to peek inside, a tupperware bowl full of water dropped on my head. ha!!! Dirty. I had to clean up the whole bathroom which was now covered in water. ha!
I also put food coloring in Kennedy's milk glass so that when I poured her milk it turned blue. She loved that. She even wanted to save a little to show Dasun when he got home.
You could do it with any color for different holidays. I think it would be fun on Valentines or even St. Patrick's Day (Maybe green milk, green eggs, & green pancakes)
Earlier that day I went into the bedroom and pretended to be asleep. When she came in to wake me, I yelled, "Just kidding! April Fools!". She started giggling so hard and has been trying to "kid" ever since. She would just yell, "April Fools!" though and wasn't joking about anything. ha! Tonight, she got in trouble for being sassy and in order to try and avert trouble she said, "Just kidding, Happy Easter Day!" ...not sure she understands the whole - only joking on April Fools thing. ha!
Did you do anything funny on April Fool's Day? or have something done to you? I'd love to hear all about it! I think fun no harm pratical jokes are a great way to keep marriage/life fun.
Here are a few things I have done (at least the ones I can remember right now):
-rolled up sock in the toe of a shoe
-stuffed animals balanced on a partially closed door so they fall on the person when they walk in.
-toys placed under the covers at the foot of the bed.
-changing all the stations on the car pre sets to funny music channels.
-turning everything on in their car so that when they turn it on, it goes crazy (music on and up, windshield wipers on, blinkers on, air cranked, etc...)
-even putting a stuffed animal in some clothes your husband has laid out, so that it looks like it's wearing them.
---all completely stupid, but all fun, and all smile inducing. : ) Get to pranking and then let me know about it.